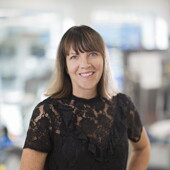 Meet Sylwia, Production Test Engineer
Hello Sylwia, you have been with Excillum since 2020 and just recently changed jobs and team within Excillum. Tell us about this step.
It is correct. After 2 years the time for next step and new challenge has come. All these years of work as lab technician let me know the company very well, including incredible technology and science behind our products as well as group of great professionals working with me. I believe this knowledge and experience in connection with my personal skills, personality will be much more useful and relevant on new position
What are you focusing on right now on your new job as Production Test Engineer?
Learning the most. Getting more and more knowledge about testing systems and sub-assemblies as well as solving all problems appearing during this process.
We hope you will stay with us for a long time – What is important for you to feel motivated?
Since on new position every new day becomes challenge, new tasks and problems to be solved appear, I have no problem with motivation. If it goes together with work in team of mutual supporting colleagues that is even better.